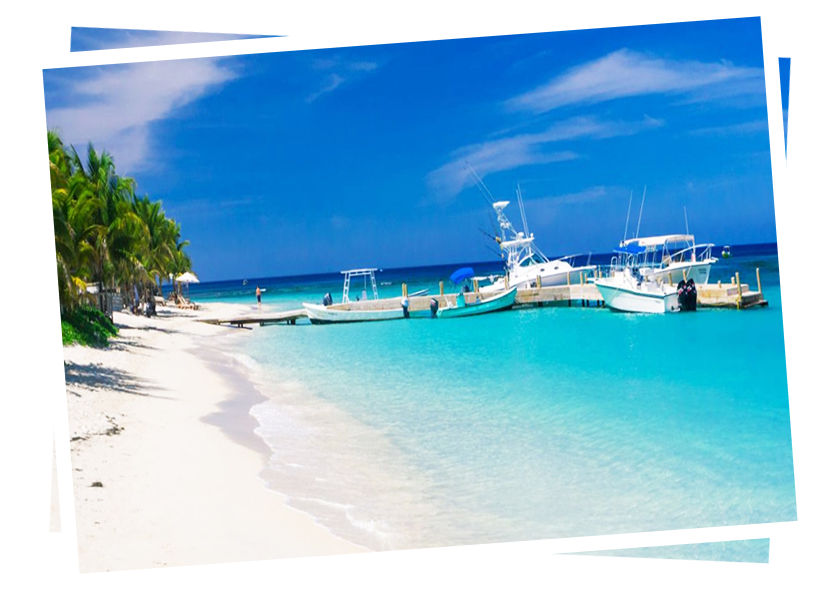 Plan Your Trip with
Highlight Independent Tour
Here at RHITOUR we aim at providing our guests with the best tour experience and services in Roatan, our staff members are bilingual professional with a vast knowledge of our island history and culture, by booking family friendly trip and activities with us you will not only experience the beauty of our island but also learn about our culture, lifestyle, history, and a lot more.
Give us the chance to take your visit or vacation to the next level and amaze you with all that our island has to offer. Check out Things to do in Roatan.
Excellent My wife, 4 young kids and myself met Larson upon exiting the port after getting off our cruise ship, as we were looking for a ride into the island to a pre-booked dolphin experience. Larson's kindness and pleasantness shone above many others who were offering their services, and gave us the feeling that following him would be a positive and most importantly a safe and reliable choice and at a good price. Larson helped us get to our destination safely, while sharing his knowledge about the island on the way. Specifically, I was interested in learning about the different fruit trees in the island which Larson had impressive knowledge of. Upon arrival, Larson also kindly helped us modify our booking at the dolphin resort, as we needed an earlier slot to be able to make it back on time to the ship. On the way back, Larson came to pick us up on time as agreed and safely returned us to the ship. Next time we visit the island, we would definitely book Larson to be our guide.
Experiencia Inolvidable Conocimos a Larson afuera del puerto, caminamos hacia el portón y el nos ofreció sus servicios. Fue un excelente guía, muy buena compañía y su auto muy confortable. Nos consiguió descuentos en los delfines y corales que visitamos. Sin duda lo recomiendo para futuros viajes a la isla de Roatan – Honduras
Great tour guide We had a great time in Roatan and we beleve it was becuse of how friendly the people were especially Larson our tour guide. Larson showed us so many parts of the iland that we would have never seen on a regular excursion. It was like one of our family members showing us around his hone town. We went zip lining and to the sloth and monkey park we had a blast. Thank you again Larson for giving us such great memories we will remember forever.
What a day! Our cruise ship landed with us not having any specific plans, so when we landed, we were fortunate to encounter Larson who offered to take us on a ride to West Bay. Along the way he described the ins-and-outs of Roatan, and told us the places to hit to have an excellent day. And he did not disappoint! He was professional and a friendly man to interact with!
Best trip of my life! This is by far the best trip I've been on and the best part of the island. Our tour guide took care of us everywhere we went and made sure we had everything we needed. Very nice and I'll definitely be coming back!
BEST TOUR EVER!!!!!!! OUTSTANDING TOUR, KUDOS TO LARSON!!!! I usually avoid taking excursions because on many occasions they have been a generic cookie cutter, pay your money, photo op. This was an experience that I would pay for every time I visit.Larson is an excellent tour guide and very professional. The 1st tour was so good we took a 2nd with him. We visited mangroves, beaches, fished, rode ATV's, shopped, ate excellent food, jet skied,……. I HIGHLY RECOMMEND
Best Roatan Tour Larson was am amazing tour guide. Larson was super friendly, and knowledgeable about the island We stopped at local places to try real honduran food. We went on an ATV tour from Coxhen Hole to West Bay. Larson made sure that we were safe the entire time. I will definitely be booking with Larson every time I go to Roatan.
Amazing. Returning in August! For all who not visited, Roatan is on the rise and is an unknown treasure. Highlight knows and can take you to all the best parts of the island. Great time with Larson and company. Highly recommended!
Best Roatan Tours! We took a cruise and didn't plan an excursion on the island but knew we wanted to get off the boat and grab some food. Tyron accommodated our late plans and took us to an amazing restaurant below Jungle Top Adventures , after eating Quinn took us on a small tour of the island where we visited West Bay we took a tour of the Roatan Chocolate Factory which was fun. Quinn made us feel like family visiting from out of town. Definitely recommend using this company to tour the island.
Wonderful and exciting experience!! We had an amazing experience w Larson. He was very friendly, personable and Knowledgeable about the island. He was on time picking us up w that beautiful friendly smile and driving us around the island. He drove us to the Garifuna villages (known as Punta Gorda) where we got to witness drumming, dancing and chanting while eating delicious fresh fried fish. The mangroves tour on boat was magical! I learned something new on this tour. It was an amazing experience and I recommend him for all future tours. Cant wait to do the fishing tour! Did I mention the snorkeling?!! Omg!!
Plan and Book your trip with us
Ready for an unforgettable tour?